Take A Trip With Us To Stonehenge
Take a trip with us to one of the most famous landmarks in the UK, probably the best known prehistoric monument in Europe and the only surviving lintelled stone circle in the world.

World Heritage Site
The world-class exhibition and visitor centre- is worth a visit for a glimpse of the 5,500 year old man alone!
Top 10 Stonehenge facts
1. This Neolithic structure is believed to have been built sometime between 3000BC and 2000BC.
2. It was erected using precise interlocking joints – unseen at any other prehistoric monument.
3. Each standing stone is around 13 ft high, 7 ft wide and weighs 25 tonnes.
4. The blue stones from the Preseli Hills were brought 150 miles.
5. Its importance in the development of archaeology cannot be overstated. The study of Stonehenge has provided invaluable information on ceremonial and funerary practices of Neolithic and Bronze Age people.
6. Evidence of a ritual site here goes back to around 8000BC, after 4 or 5 Mesolithic postholes were found nearby in East-West alignment. A similar site is at Warren Field in Aberdeenshire – considered the oldest Lunar Calendar.
7. There have been many different theories for its usage: a coronation place for Danish kings, a place to worship ancestors, a druid temple, an astronomical 'computer' used to predict eclipses and other solar events and a cult centre for healing. Currently the most widely accepted explanation is that it was a Prehistoric temple that aligned with the movements of the sun.
8. The earliest stage of the monument is one of the largest cremation cemeteries known in Neolithic Britain.
9. The stones were roped off in 1977 due to serious erosion.
10. Druid worship here has been heavily restricted since the Battle of the Beanfield in 1985, when a clash between travellers and the police saw 537 travellers arrested – one of the largest (if not the largest) mass-arrests in English legal history.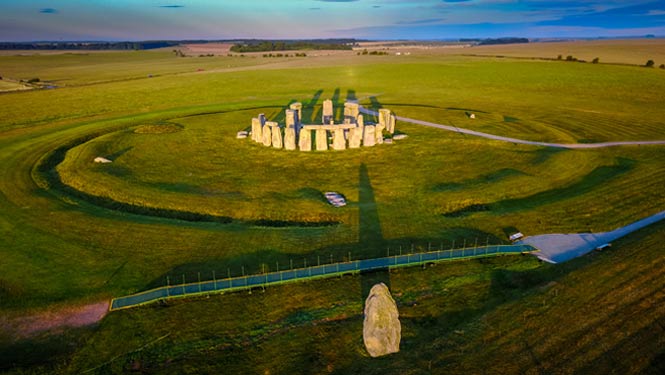 Top Places to eat nearby
1. Maguires Vintage Tea Rooms: Stonehenge Walk, Amesbury, SP4 7DL. 2 miles from Stonehenge. Take High Tea in quaint, relaxed surroundings – with excellent service. If you're out and about early try the Full English breakfast – according to one Trip Advisor reviewer, it's 'probably the best in Wiltshire.' - Update July 2019: This place is now closed.
2. Siam Smile Kitchen: The Antrobus Arms Hotel, Church Street, Amesbury, SP4 7EU. 2 miles from Stonehenge. Enjoy fresh, aromatic Thai food at Siam Smile Kitchen – this place is outstanding! Excellent vegan options and friendly staff.
3. La Lupa: Unit 4, Stonehenge Walk, Amesbury, SP4 7DB. 2.1 miles from Stonehenge. Stunning Italian food. Generous portions, great wine and impeccable service. More expensive than average – but worth it.
4. Danny's Craft Bar and Kitchen: 2-4 Salt Lane, Salisbury, SP1 1DU. 7.6 miles from Stonehenge. Expect great burgers, tasty nachos, friendly staff, an interesting selection of beer, table tennis and sports on TV. If you like this sort of place – it's an excellent example.
For more information about this world heritage site