Restaurants to try in the Capital
If you are interested in going to the London Restaurant Festival then please call us on 0208 878 7777 to arrange a Car Service and we would be delighted to take you to one of the exciting events happening in October.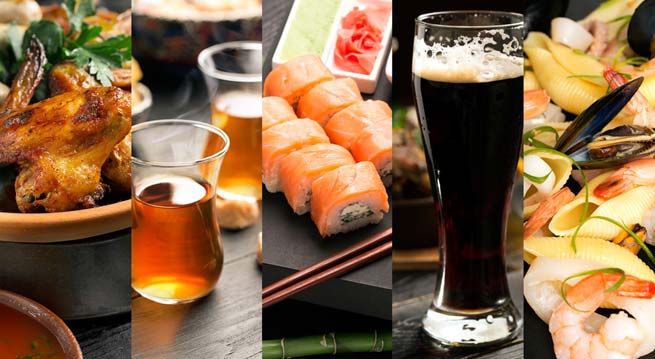 For lovers of great food: 1st - 31st OCTOBER 2017
London's foodies have never been so well catered for.
Every category of world cuisine can be found in the nation's capital - if you search hard enough. Look no further for a helping hand in your investigation.
Did you know that October is THE month to celebrate all the incredible world-class food that London has to offer? The London Restaurant Festival is now in its ninth year and its events are only becoming more impressive!
Make sure that you put at least one of these events on your October to-do-list.
Book now before they all sell out:
Festival Tasting Menus from just £10 pp
There is something for everyone's budget here – choose to either save or splurge in over 350 menus at 200 restaurants, from the Michelin-starred to the local favourites.
Restaurant Hopping Tours from £45 pp
Discover exciting new places to wine and dine, with a delicious tasting plate in every venue. Themes include a Tapas tour, a British tour and an International tour.
Wine Tasting at the Andaz Studio for just £15 pp
Taste and learn about wine in beautiful, relaxing surroundings. This is a bargain.
Cooking the Roux Way: Friday 6th October, £645 pp.
To celebrate the 50th anniversary of the restaurant that has been a forerunner of contemporary cuisine in the capital: Le Gavroche. The restaurant's executive chef Rachel Humphrey is host at the Michel Roux Jnr Cookery School in Clapham – where you will cook a 3-course seasonal menu based on famous Le Gavroche dishes. In the evening, you will enjoy a 3-course dinner (not cooked by you) with wine, including canapes and champagne to start. You can even meet the man himself: Michel Roux Jnr obviously.. A little pricey – but look what you are getting for your money!
Ultimate Gastronomic Weekend:
Saturday 14th and Sunday 15th October with Michel Roux Jnr
Saturday 28th and Sunday 29th October with Atul Kochhar
Stay at the luxury 5-star hotel Andaz London. Experience an eclectic array of the best food that London has to offer; in a tour of its top restaurants, absorb yourself in the food stalls/eateries (take a peek at the antique stalls on the way) at the famous Spitalfields market and enjoy some complimentary wine tasting.
Combine food and film at the Temple Cinema in the Andaz Hotel £37 pp (sold out)
At a screening of some of the best films ever made about food (this year's selection: Tampopo, Chef, Delicatessen and Jiro Dreams of Sushi) enjoy either a Bento box (from the Miyako restaurant) during the film or a 2-course dinner at Eastway (either before or after the film).
Desert Island Dishes: Exclusive to American Express Customers.
As sponsor of the event – American Express are giving their customers an exclusive treat. In a series of 10 events from London's greatest chefs, enjoy a 4-course meal inspired by the life of an award-winning chef.
Our Pick of the Recipes:
Taken from tapas paradise Barrafina (recently voted the UK's Best Spanish Restaurant): Migas with Morcilla Patatera and Papada Iberica (Iberian Pork, Chorizo and Eggs) See link for this recipe and more.
http://www.londonrestaurantfestival.com/wp-content/uploads/2017/07/LRF_Recipe_Book.pdf